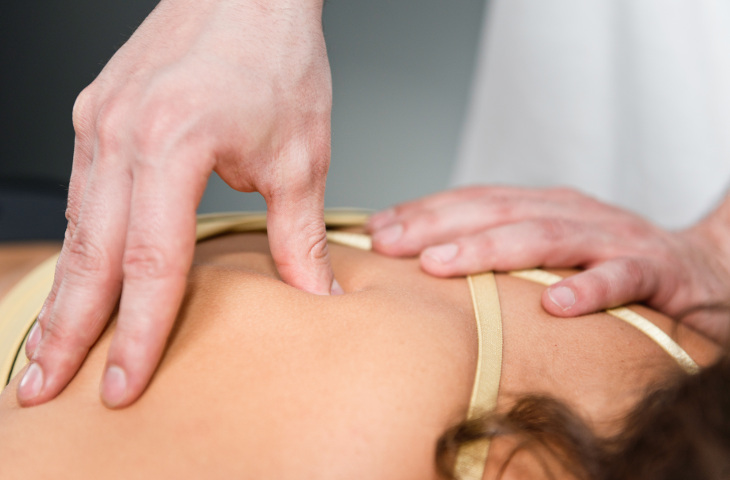 Chiropractic treatment and physical therapy are vital to improving a person's recovery from injuries caused by an auto accident. The most common injuries following car accidents are whiplash, which is caused by the sudden, jarring head motion often seen in a car crash, bone fractures, and muscular damage.
Dr. Caez has extensive experience working with patients who've been involved in car accidents and encourages his patients to come see him as soon as possible after an accident so they can benefit from his expert chiropractic and physical therapy care. He treats and alleviates damage, pain, and soreness in bones, muscles, nerves, and connective tissue. He usually has same-day appointments available, and his bilingual staff make it easy for Spanish-speaking patients to get the care they need.
Dr. Caez spends time with each patient to address the accident injury as well as any underlying issues they may have. He acts as the quarterback of your team, working with other medical providers, and even district attorneys for legal consultations. So even if you're unsure of the best type of treatment to seek, Dr. Caez will recommend a thorough treatment plan and guide you through your recovery.
Common Questions about Auto Accident Chiropractic Treatment
What are some of the common injuries that follow an auto accident?
With patients who've experienced a car accident, the most common injuries we see are sprains and strains, whiplash injuries, headaches, shoulder pain, wrist pain, and general joint pain and soreness.
What are the benefits of chiropractic treatment after an auto accident?
Seeing a chiropractor as part of your recovery after a car accident has key benefits. Chiropractic care can reduce your injury recovery time, help you regain and maintain full range of motion in affected joints, and can keep injuries from becoming permanent.
Is chiropractic treatment safe?
Yes, chiropractic treatment is completely safe, and there are no known risks. Patients can feel confident that when they include chiropractic care in their treatment plan, they are 100 percent safe and are giving themselves the best possible chance at a full recovery.
How soon after a car accident should someone come in for chiropractic treatment?
In order to get the best results, Dr. Caez recommends coming in immediately after a car accident or within the first few days after the accident. This will give you a jump-start on addressing any injuries and will get you back to feeling good as soon as possible. Keep in mind that you must come in within 14 days of an auto accident in order to get insurance coverage. Dr. Caez offers same-day appointments to make it easy to get care right away.
Who is a good candidate for chiropractic treatment after an auto accident?
Just about anyone can benefit from chiropractic care—especially if they are experiencing joint pain or soreness, limited range of motion, or symptoms of whiplash. However, in any emergency situation, people should get to a hospital right away. Patients with concussions or broken bones need to be treated at a hospital before beginning to address their longer-term recovery plan.
Should I see a chiropractor or a physical therapist?
Dr. Caez recommends coming in to see him so he can assess your injuries and determine a holistic plan for recovery. A complete treatment plan could involve physical therapy, massage, electrotherapy, or seeing another specialist. Dr. Caez will act as the quarterback of your medical team and, depending on your individual physiology and needs, will refer you out to other specialists if necessary.
What is the evaluation process like?
Dr. Caez will conduct a thorough evaluation, including a questionnaire, a physical examination, and a discussion about the accident dynamics and any previous injuries that might be a factor in your recovery. X-rays can be run on-site that day, and Dr. Caez will determine whether an MRI or consultations from other specialists might make sense for you.
What happens during a chiropractic session?
Dr. Caez will talk with you about what problems you're experiencing, explain what he can do, and then will give you a physical adjustment. In cases where a patient is too sore or sensitive for a physical adjustment, other therapies, such as electrotherapy techniques and stretches, can be helpful. For the most convenient treatment, all of these therapies are available at Dr. Caez's office, so no matter what your needs are, his team will be able to take care of you on the spot.
How long would someone typically see a chiropractor after a car accident?
For most people, it takes about one month to address the injury, with adjustments wrapping up within 90 days. For serious injuries, it could take up to six months or a year.
Is chiropractic care covered by insurance?
Chiropractic treatment is covered by most insurances, and auto insurance and liability insurance often pays for services, as long as you come in within 14 days of the accident. After that 14-day window has passed, there is still a chance it will be covered by your health insurance. Dr. Caez's office will help you determine whether your insurance will cover treatment, but you'll have more options the sooner you come in.
Contact Us
For more information or to book an appointment, please fill out this form, email us, or give us a call.